Prepping yourself for an interview is incredibly stressful, you're worried about many things; a history of job hopping, previous company's reputation, gaps in employment, but I'm here to tell you that those worries don't matter. When you're looking for a new job, the number of jobs you've already had doesn't matter. The number of times you've changed industries doesn't matter. The number of times you've moved locations doesn't matter. What does matter is how you use the story of your career to get an interview for your dream job.
Throughout the series Syfter on LinkedIn, I've been revealing the secrets of staffing, detailing how recruiters find candidates on LinkedIn. However, all of the components I've written about can't help you unless you can bring them together to curate your professional story.
Your professional story is the history of your career along with your professional personality that you have been working to create on LinkedIn. Recruiters rely on how you sell yourself on your LinkedIn profile to decide if you will be a good fit for a company or not.
What Is Your Story
Curating your story is all about what you choose to emphasize or de-emphasize to convince a recruiter that they should call you. The choices you make should tell the recruiter about your career up until this point and where you are going next. Your story should feed into the goal of playing up your strengths that suit the skill-sets needed for your dream job.
Career Trajectory
Creating a story that will emphasize where you're going in your career is dependent on how you detail your work experience. Looking at your previous titles and companies on your LinkedIn profile, what sort of story do you see?
Now, imagine you are an internal recruiter looking at my profile, and what story does it tell you?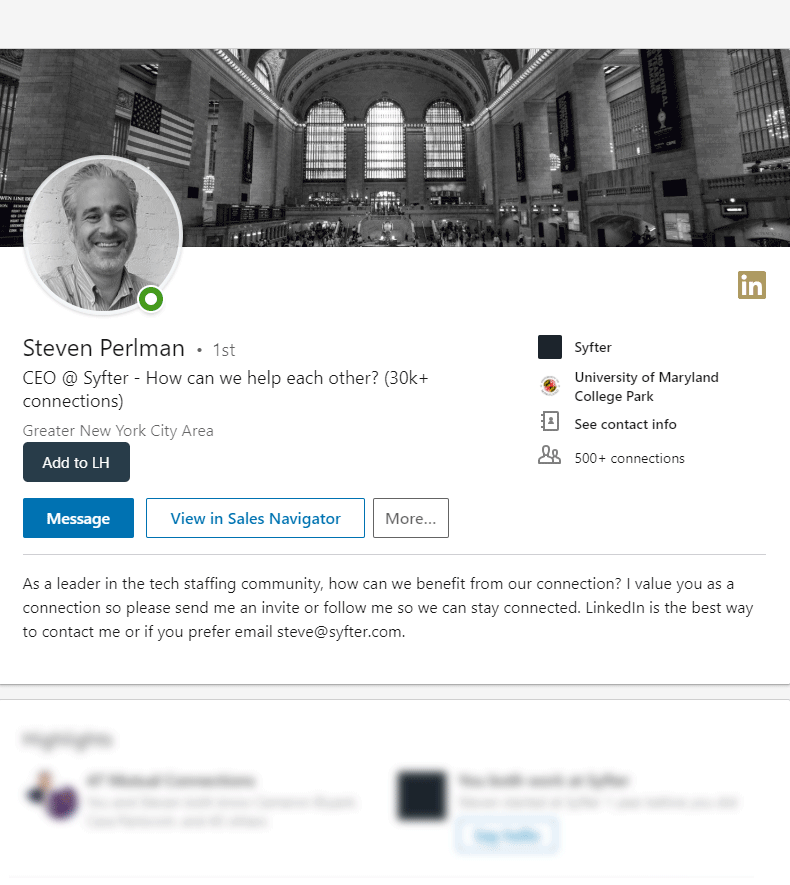 Everything on my profile is filled out, but remains minimal so the emphasis is on the progression of my actual career. I've moved up quickly from an individual contributor to the CEO of my own company within the sales and staffing industries. My activity, endorsements, recommendations and interests, all support my story with related content. 
Whatever your career has been, your experience should show a succinct story. Small changes like re-wording your title, or adding a small description of your work can point to why you made the moves you've made, and how they've enhanced your career.
If there is something that you don't like as much, such as a gap in employment, don't think you can fool a recruiter by cutting it out of your history. If there is anything left unsaid about a gap - or anything that may be negative - recruiters will assume the worst. Instead, be open and address the gap, recruiters appreciate honesty and will have more trust in you.
Quality
A good way to understand how you measure up to your dream job - and what recruiters will be searching for - is to find a job description of the position you want. Within this description, you'll be able to find requirements, nice-to-haves, and keywords that you can fit into your profile if you have them. When recruiters create search lists using LinkedIn Recruiter or LinkedIn Sales Navigator, they will mostly be using the same information that is found on a job description.
Use What Works
Throughout my previous articles, I have broken down why recruiters use LinkedIn, who the recruiters are, LinkedIn's embedded search tools, and how to use keywords in your profile. I want to pull together the most important takeaways here, keeping in mind that LinkedIn should be viewed as a sales tool to get an interview:
Most recruiters won't reach out for your resume if they don't like your LinkedIn profile

Most people design their LinkedIn for who they imagine is the CTO, but in reality, the people viewing your profile are recruiters and HR

Your profile should utilize keywords related to the job you want

Use multiple variations on the same word to appear in more searches - VP and Vice President, CTO and Chief Technology Officer
Clean Up Your Profile
The details of your profile will make a huge difference in overall appearance and completeness. Recruiters are seeing thousands of profiles that they may narrow down to just 2 that could be considered identical in skill-set and experience. If one profile is complete, neat, professional, and has a good profile image, while the other is incomplete and messy, they will reach out to the person with the better looking profile. 
Every opportunity for an image or icon should be used; every company should have a logo, and your profile header should remain professional. It should go without saying, but spell-check your profile, you don't want to scare off a recruiter with a simple spelling mistake.
Take A Step Back
After you've finished cleaning up your profile and creating your story, take a step back and look at your profile on desktop and on mobile. See if it looks professional and is telling the story you want it to tell. Ask a colleague, friend, or a professional, to tell you what storythey see. Keep these notes in mind whenever you update your profile or are looking to change positions.
...
I truly hope you've enjoyed learning about the world of recruiting in the series Syfter on LinkedIn. Take what you've read and apply it to your LinkedIn profile and see the difference it makes. And now that you have a killer LinkedIn profile - go get that dream job!